Learn how Carbine's upcoming MMO gives you all the tools you need to be your own unique snowflake.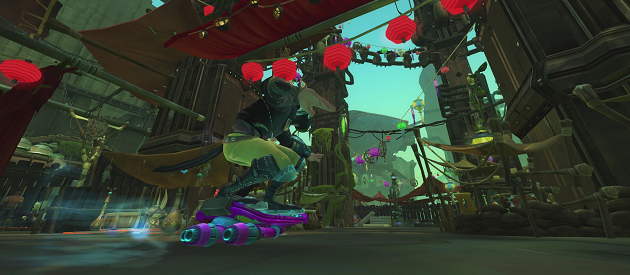 MMORPGs come in all shapes and sizes and are defined by the individual pieces that make up the worlds that gamers thrive in. These pieces can range from environments and creatures to characters and story, but throughout the genre one staple has always nestled perfectly at its core--customization.

Whether you're changing armor, weapons, spells, abilities or your character's eye shape and hair color, tweaking and tailoring the game experience to suit your style has always been a major factor in any MMORPG. And while some games may be at the lower end of the spectrum compared to others of their kind, WildStar is definitely aiming to hit all the right points that give players the ability to customize almost anything they can get their hands on.
Earlier this week I had the chance to attend a round-table Q & A session with members of WildStar's development team including its Social Systems Lead, Joe Piepiora, Content Systems Lead, Nick Roth and Lead Class Designer, Hugh Shelton. We talked all about customization in this upcoming Carbine Studios-developed sci-fi MMORPG.
And if you take anything away from this today, it's that everyone likes being able to be their own unique snowflake--with a giant laser. A giant laser-wielding snowflake.

Let's dive in!

Home Sweet Home

If you've been following WildStar for a while then you might already know about the game's fairly robust housing system. And "fairly robust" may be putting it lightly due to the intricate and interwoven nature of the system and how it connects to other areas of the game. However, like all complex systems, it's usually best to start from the beginning.

So when can you get your house? Currently upon hitting level 14, a player will be contacted by a Protostar Housing Representative. You can think of the Protostar Corporation as the "pushy electronics salesman" of the galaxy because, well, they pretty much are. After accepting his quest you'll be told to meet with the representative in whatever capital city your chosen faction calls its own. You will then be given your very own plot of land. While obtaining a plot of land is fairly simple, how deep players go down the "housing rabbit hole" is completely up to them.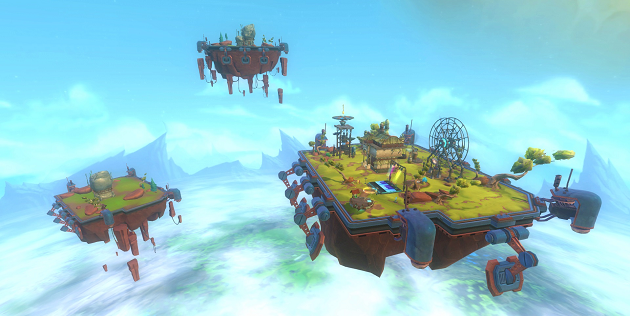 Upon arriving at your plot of land you'll notice a few things, first of which will be a teleporter. Since you're now a proud land owner you'll be given the ability to teleport to your house from nearly any location every 15 minutes – as long as you're not in the middle of combat or getting your butt kicked by an unhappy citizen of Planet Nexus. The teleporter allows you to 'port back to whichever location you came in from, letting you easily jump back into the fray.

You'll also notice a "buff board". This board gives you once-per-day access to a selection of random buffs. These can be anything from group PvE bonuses and PvP bonuses, to instanced content and crafting buffs. So there's a bit of incentive to at least visit your house on a daily basis.

The last thing that you'll notice is that, aside from a few trees and brushes, your housing plot is pretty much empty. This is where the building begins and at level 14, you'll have access to a list of faction-related starter housing options for you to choose from. These can then be upgraded to an even larger version upon reaching level 36.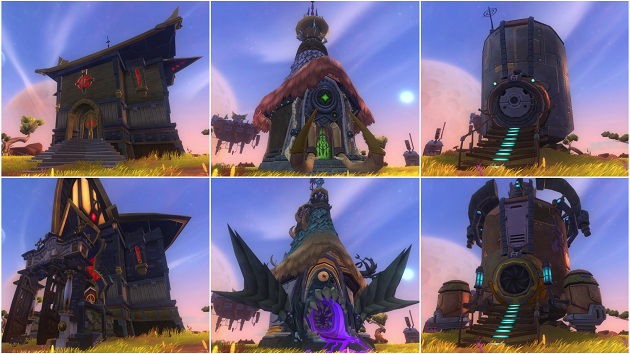 The Carbine devs also hinted at the possibility of adding additional sizes post-launch. Can you say "player mansions"?

Before I get caught day-dreaming about my future mansion, let's get back to the basics. Building structures is pretty much instantaneous with housing in its current form – minus some pretty cool building animations that take place for a few seconds. However, with the game still in closed beta, build times may be subject to change.

Once your house is complete it's time to start decorating. This is where the real "meat and potatoes" of WildStar housing starts taking shape. Players will have access to hundreds of props, decorations and accessories for their house. While some are simply for decoration, others have additional functionality. You can expect everything from tables, chairs and books to ancient alien devices, posters and laser cannons.
"Every room inside your house can have different wallpaper and floors and ceiling and trim. The Interior of your house can have different lighting effects going on inside of it. So if you want one room that looks really dark and have almost a sepia tone tint you can do that as well. Again, changing it room by room."
Find a stuffed animal while questing? With the game giving you the ability to modify the placement, orientation and size of every item, you can now turn that little guy into a life-sized doll – or make it large enough for King Kong.

And while you're free to customize your wallpaper, floors, rooftop and just about every inch of your house, don't forget you still have a huge plot of land with more space. And don't think this is simply more room to throw additional chairs and benches, you can actually use this area to create buildings and structures. Items called "Fabkits" are what players use to add additional facilities to their land and can be acquired from a variety of places including dungeons, vendors, open world drops and even through crafting.

With the use of Fabkits, you'll be able to tailor your land to suit your needs. Looking to be a dedicated farmer? Build a garden where you can plant seeds to grow and harvest your own crafting ingredients. If you're a hardcore raider or dungeon dweller, you can even build structures that provide beneficial PvE buffs to you and your friends or a telegraph training simulator that gets you ready for the big leagues. If PvP is more your thing, you might want consider creating a dueling arena for you and your buddies to brawl in. The list goes on.

With the ability to invite neighbors and roommates to your plot of land to visit or help decorate, Carbine wants housing to not only be fun, but a social and customizable experience.
Now just because you can teleport to your house, it doesn't mean that instantaneous travel will be your main way of getting around Nexus. It's actually quite the opposite with travel of this nature being restricted by pretty lengthy cool-downs. However, because of this, a variety of both futuristic and primitive ground mounts will be at your finger tips to better help you explore every nook and cranny of the planets surface. If an awesome purple lizard mount wasn't cool enough, try adding some lasers.

That's right, mount customization.