Star Trek Online celebrates its 3rd anniversary with new video featuring Tasha Yar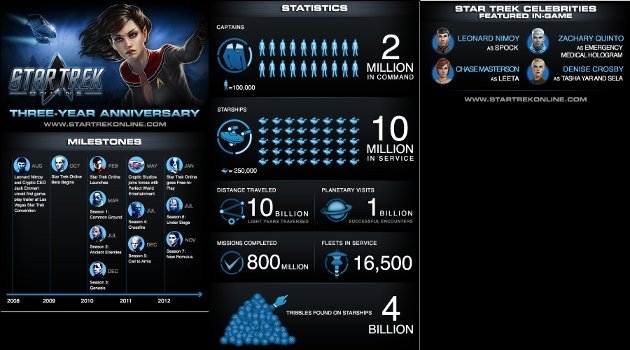 As you can tell from the infographic above, there's been a lot going on in Star Trek Online over the past three years. The troubles caused by tribbles alone is enough to make the eyes water.
As part of the celebration of STO's third year exploring the final frontier, Perfect World Entertainment has released a new video outlining the events of the past year, which included the seventh season update, and a glimpse of things to come. Featuring Denise Crosby as Tasha Yar, we get a peek at a new storyline video and info on free ships you can claim by taking part in the celebration.
Will you be joining the fleet? Or are you a current player? Let us know what you think of the game in the comments below.
Scott "Jarimor" Hawkes, Editor in Chief