Gareth Harmer runs his fingers over Logitech's latest LCD-toting keyboard.

When I started out in PC gaming some twenty years ago, the hardware landscape was pretty bleak. Excluding some minor tinkering, I'd use whatever came in the box until it became time to junk it and buy a replacement. It wasn't until my University years that I started building my own, tailoring my rigs to deliver gaming power.
It's probably why I developed a soft spot for my first gaming-related computer purchases. The Orchid Righteous 3D and SoundBlaster AWE32 are what started my search for Gaming Nirvana, but it was Logitech's G15 keyboard that took it out of the case and on to the desk. With this keyboard I could see who was talking on Ventrilo or check to see if FRAPS was recording. In a sea of single-screen gamers I became a god of knowledge.
With Logitech's latest gaming line-up featuring a successor in the form of the G510s, would I be lured back to the joys of an LCD screen? Or had the siren call of mechanical keyboards, exemplified by the G710+, tempted me away? For me, it's a tough decision to make.

The first thing I noticed when unboxing the G510s is the huge collection of 18 macro keys on the left hand side. Arranged in three banks of six, these buttons can be assigned to perform common key sequences, carry out commands and even change settings on your Logitech mouse. It's a staggering amount that should cater for even the most automation-hungry.
Sweeping my gaze over the rest of the keyboard I noticed that almost every aspect had been improved. Volume controls had been replaced with a smooth roller and a big, solid mute switch. Media buttons had been moved from the LCD display to just above the numeric keypad, getting a much better feel in the process. Even the gaming switch to disable those pesky windows keys felt more solid.
Although the G510s has lost the USB hub sported by the original model, this is probably a good thing; today's power-hungry smartphones and tablets tend not to play well with hubs unless they're externally powered. As a compromise, the keyboard now includes 3.5mm connections for a gaming headset, complete with independent headphone and microphone mute controls.
In contrast to the remainder of the G510s, both the WASD cluster and directional keys have a silver finish to help locate them quickly. The entire keyboard is also fully backlit, with the lighting color and intensity controlled by Logitech's Gaming Software. It's possible to have a specific color for each stored profile, making it easy to see which mode the keyboard is in. The backlight can also be toggled directly from an on-board button.
Setting up the Logitech G510s is as simple as downloading its Gaming Software, but you probably won't even need to do that. If you have a pair of gaming headphones or are rocking one of its gaming mice, you'll already have everything that's needed. Just by plugging it in, Logitech's software instantly recognized and configured the keyboard, offering me a range of profiles for all of my installed games.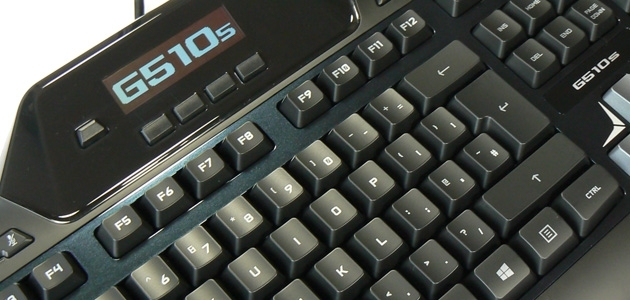 Diving into some extended gaming sessions brought out some more subtle improvements. Although it's a smaller step up from the G510, the 's' version includes new surface coatings that are designed to make the experience more comfortable. Those include a hydrophobic coating on the removable palm rest to prevent stickiness, and a fingerprint resistant coating on the faceplate to keep things smudge-free.
Guild Wars 2 gave me the chance to test overall MMO performance, especially considering that ArenaNet's latest also supports the LCD GamePanel. The keys gripped my fingertips nicely, while the LCD displayed a mixture of character and completion statistics. The membrane keyboard is certainly nimble enough to handle dodging out of incoming attacks.
Switching over to Planetside 2 was a different experience. As Sony's MMOFPS doesn't support the GamePanel, I used it to display my outfit's Mumble server details instead. It's a combination that works well, with the macro keys providing quick control of my mouse's DPI. I also preferred using the LCD for voice comms instead of the main-screen, as I find Mumble's overlay can be distracting.
The final game I tested was Dragon's Prophet. While still in closed beta until later this week, I was interested in seeing how the G510s would handle those mouse-keyboard combo abilities. With 6 key anti-ghosting, Logitech's keyboard handled every kludged mix of keys, helping me pull off those combos when it mattered.
There are a bunch of other games and utilities designed to take advantage of Logitech's GamePanel, including FRAPS and Ventrilo. Riot recently announced deep support for League of Legends with the keyboard, switching the backlight to your team's color and showing advanced stats on the LCD. While there's no guarantee that a particular game will use the panel, it's likely to be useful for the apps that you have running in the background.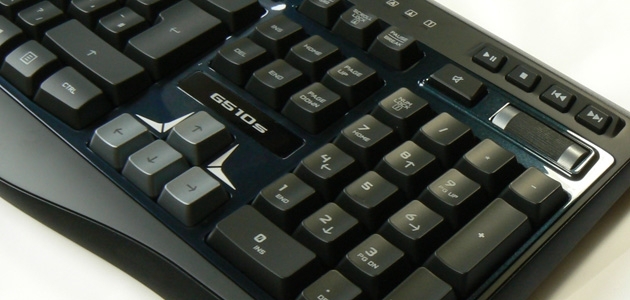 While the G510s isn't a large step up from the earlier G510, it's a massive upgrade on the original G15 and is worth getting on that basis alone. If your original red-glowing battle-axe should be heading towards retirement, the G510s is a very worthy successor. Everything's been improved, from the tightened layout to the bolstered button quality. As a package, it all feels much neater.
If you're in the market for a membrane keyboard, then the G510s is also worth considering. While others may offer macro features or a sleeker appearance, Logitech's family of keyboards is the only one to sport the GamePanel. With games and apps continuing to emerge that support the desk-bound LCD, I'd argue that it's a contender worth considering.
Unfortunately it's not mechanical and, while Logitech does offer a mechanical keyboard, it doesn't include the LCD panel. This is why it can be a tough decision to make – if you've seen the advantages of the GamePanel, yet prefer the feel of mechanical keys, there's no obvious choice. Until there's a keyboard that contains both there'll always be a compromise.
The Logitech G510s is available now in the US, priced at $119.99 direct from Logitech. The UK variant should be available from the end of May, priced at £99.99. Other retailers may vary.
Gareth "Gazimoff" Harmer, Senior Contributing Editor