In search of the most desirable MMO kit, staff writer Gareth "Gazimoff" Harmer took a look at look at Razer's new flagship gaming keyboard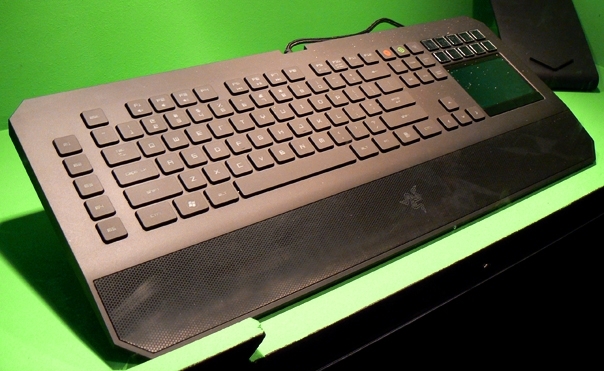 When was the last time you really looked at your keyboard? Sure, you might glare at it angrily when you fail to stab that crucial hotkey or mess up an infuriating jumping puzzle. But most of the time it remains largely ignored, an invisible slab of plastic protrusions that act as an interface into our virtual worlds.
In order to make our keyboards more useful, there's been a growing trend to attach small displays, providing anything from health and mana in MMOs, to a running count of the number of unopened emails residing in our inboxes. These tiny LCD screens can be a real boon to those of us without a second monitor perched on their desk.
Entering this arena of beefed up button boxes is the Deathstalker Ultimate. Representing the top of Razer's range of keyboards, this sleek, low-profile keyboard sports a whopping 4" LCD display, which also doubles up as a digital trackpad. Using the Switchblade technology unveiled at CES last year, there are ten LED keys supplementing this micro-monitor, each of which has a tiny screen sitting beneath it. Your fireball key can finally have a picture of a fireball underneath it.
I managed to get a quick tour of the Deathstalker Ultimate during Gamescom, and was initially impressed with just how functional and flexible the display is. Razer is bundling in a series of apps to handle everything from YouTube playback to Twitter feeds, reducing the need to alt-tab out of your game. While the keyboard does have a lot in common with the Star Wars: The Old Republic variant unveiled last year, the minimalist black design is likely to appeal to those not looking for droids.
The keys themselves are generously spaced apart, with the 'Chiclet-style' keys giving the board a premium look. Macro keys for on-the-fly recording are also present, as well as 10-key anti-ghosting to help with pulling off those combos. The backlighting can also be switched between three pre-set colors, allowing you to match Razer's latest with whatever mouse you happen to be running.
Aside from the bundled apps, it'll be interesting to see if developers start to patch-in native support for the Switchblade display during the run-up to Christmas, and it's likely that we'll see Razer drive this hard over the next few months.
The Deathstalker Ultimate is due out next month, priced at $249.99. A further Deathstalker variant, without the macro keys and Switchblade UI, is set to follow later this year, priced at $79.99.