We take a look at an ambidextrous mouse that grabs your hand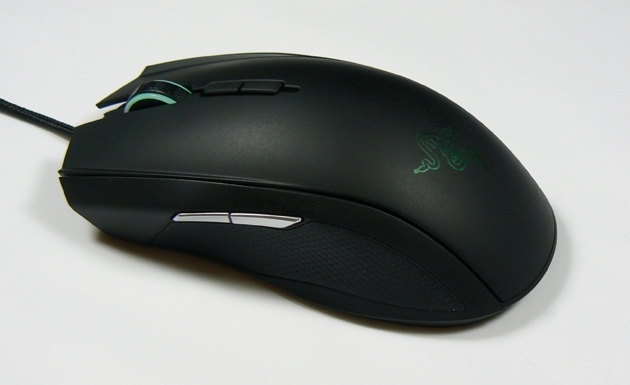 The Razer Taipan is an unusual mouse for ZAM to review. It's not specifically designed for MMOs; the precision sensors and solid grip make it more suitable for first person shooters. But if you're a left-handed gamer that's been left out in the cold, or the mass of macro buttons on the Naga don't appeal, the Taipan is one weapon you'll want to wield.
Gripping it for the first time, the Taipan felt very natural. Rubberized grips on both sides gave my thumb and pinkie finger an instinctive resting position. A pair of metallic buttons on either side accented the gentle rising slope, with a third pair, in plastic, that sat in line with the scroll wheel. It's the two main buttons though that are most surprising. By using a rougher finish and incorporating a ridge on the outside edge of each button, the Taipan gives a real feeling of control and precision.
After hooking it up to the PC with the braided USB cable, the Razer Taipan was ready to use without any additional software. The default illumination kicked in immediately, with the scroll wheel's green glow looking straight out of TRON and the triple-snake logo throbbing steadily. Lighting can be configured directly from Razer's Synapse software, on which I'll go into more detail later.
Based around a symmetrical design, the Taipan is a slim mouse at 2.5" wide. Under my larger than average hands, the 4.9" long mouse is comfortable in my usual palm grip, barely big enough to be felt at the back of my palm. Being only 1.4" tall means that it barely lifts my hand from the mouse pad, keeping wrist strain low for extended gaming. At a shade over 4.6 ounces, I also found it light enough to move quickly without feeling fragile or insubstantial. My only gripe was with the button arrangement, with the pair of buttons next to my pinkie finger being difficult to use reliably.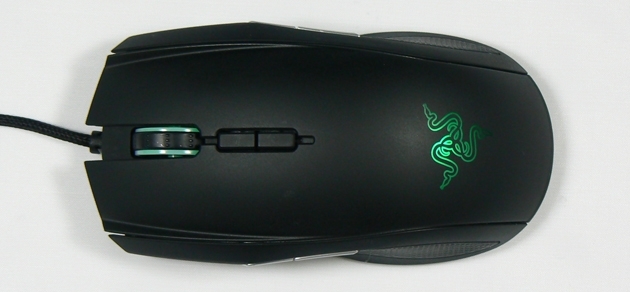 Claw grippers will be at home with the Taipan, with the mixture of textures and those ridged surfaces actively encouraging an elevated grip to maximize control. However you grasp it, control is definitely the best word to describe the Taipan, as the gripping surfaces made it feel as if my fingers and not the entire hand were doing the driving.
That feeling of precision is backed up by a dual sensor, consisting of an 8200 dpi laser and optical sensor. By combining the two, Razer reckons that it's possible to calibrate the mouse to get the best results from a variety of gaming surfaces. Calibration is worth doing before using the Taipan in battle, and is accessed from Razer's Synapse software.
Once installed, it's also possible to adjust mouse sensitivity from 100 to 8200 dpi in 100 dpi increments, while the polling rate can be adjusted between 125, 500 and 1000Hz. Sensitivity can also be adjusted on the fly, either by setting a clutch value tied to a particular button, or by having up to five pre-defined sensitivity levels that can be cycled through.
Synapse also brings a standard level of customization management to the Taipan. It's possible to remap all the buttons on the mouse, making it truly suitable for left-handed gamers. Buttons can also be assigned to launch programs, run macros and adjust sensitivity as described earlier. Synapse also supports profiles as a way of saving batches of settings for individual games, with lighting control included.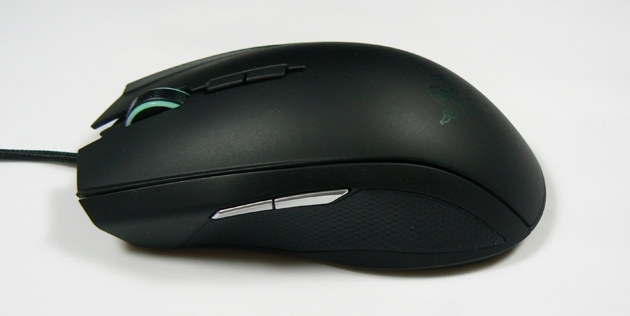 Being a precision mouse, the Taipan needs suitable games in order to get the most out of it. When playing my usual MMOs like Rift: Storm Legion and Guild Wars 2, I didn't feel much difference beyond the sturdier grip. While the mouse was definitely no drawback, it didn't offer me a significant improvement. That said, most targeting and attack is done via the keyboard, with the mouse used for movement and looking around.
It wasn't until I cranked up PlanetSide 2 that the additional precision of the Razer Taipan hit me in the face. Leaping into a Scythe, I felt comfortable hugging the ground in my jet, tilting to follow canyon walls and turning sharply in dogfights. As an infiltrator, my sniper rifle was scoring more hits. Even on my Engineer, the rocket turret became lethal. The signal was clear; the Taipan is deadly in MMOFPS games.
Overall, the Razer Taipan is a mouse I've fallen in love with. It doesn't do as much as the Naga, but what it does do, it does very well. It's not perfect – those pinkie finger buttons will need practice before they're reliably useful – but the Taipan is comfortable and responsive. It feels like a precision tool compared to cruder implements, and it delivers with some superb results.
The Razer Taipan is $79.99, €79.99 or £69.99 direct from Razer's online store. Other retailers may vary.
Gareth "Gazimoff" Harmer, Senior Contributing Editor