We go hands-on with Defiance, Trion's upcoming third-person shooter MMO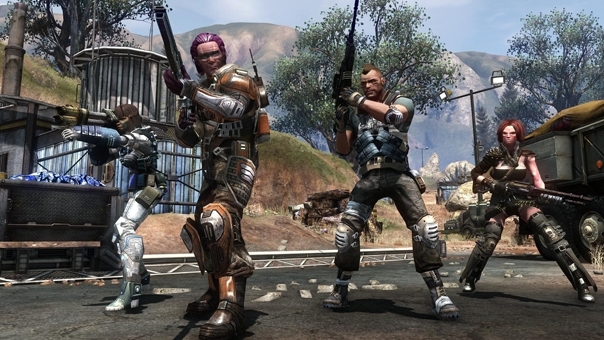 Not everyone's cut out to be an Ark Hunter. For some, the idea of working for the likes of Von Bach is too much to stomach. Like working for The Man, and there are plenty folks round here who've had their fill. Others, well, they wouldn't last ten minutes outside of town.
The world has changed. I'm not sure what history you've been watching, but the Arkfall, the wars and the terraforming changed everything. Now we've got aliens, both friendly and not, giant bugs, and who knows what else out there. Not exactly an easy place to make some scrip.
Me? I've never been too worried about where I get my scrip from, and at least Von Bach is paying for my time. It's why I went through all that Ark Hunter Induction business, where they sign you up and jab you full of needles. Sure, it looks mighty pretty on the outside, but that place is full of sharps.
Mind you, I'm not the only one who got the prickly treatment. There's enough scrip on the table for the job to attract all sorts. You've got the soldier types, still acting like they've got a war to fight. Then there's the survivalists, living out in the scrubs for months and coming back to market with all kinds of exotics. Or your outlaws, either looking for a clean slate or bank for their next heist. Maybe both.
They call me a machinist, but I've just got a knack for engines and old tech. None of the fancy stuff you see in the Von Bach labs, but I can handle enough. As much as anything San Francisco normally throws at me. Between the gangs and the hellbugs, the place isn't exactly free and easy.
Talking about fancy stuff, Von Bach sure likes to look after his investments. There's one needle they have – it's called EGO – puts one of those artificial intelligence things right in your head. Gives you a whole overlay right on your retina: maps, comms, missions, the works. 'Course, she does like to yak, especially when you're not headed somewhere she wants.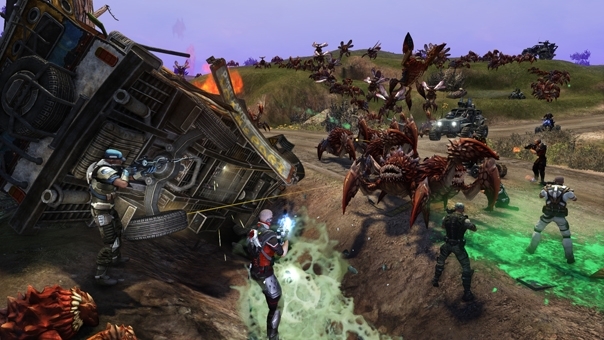 Still, EGO brings perks. The lab guys said it would "enhance my latent abilities." So far, all I've seen is a blue holo-decoy. Great for confusing those stupid gangsters. Over time, they reckon it'll improve further, maybe giving me a soldier's strength or a survivalist's reflexes. Right now, I'll settle for being used to a voice in my head. Besides my own, I mean.
Von Bach isn't the only one round these parts hiring some help. Locals are always after 'capable types' that can take care of problems in exchange for some scrip. Besides, I like to think of it as 'civic duty'. There's always the chance that they'll have a lead on whatever artifact or relic I'm chasing down. If it means I need to clear out a mine or shutdown a refinery to get the job done, I'd call that a fair trade.
Getting around isn't too much of a problem these days, not with quad bikes being standard issue. There're still roads to leap on, and most freeway signs still point right. You might get a clump of skitterings on the highway, but those mini-hellbugs are just grease for your wheels. Don't get too carried away though, else momma hellbug'll come up and kick your ass. Like an angry red fire truck rolling down the hill to cleave you a new one. Seen it myself once or twice, took three of us to take it down.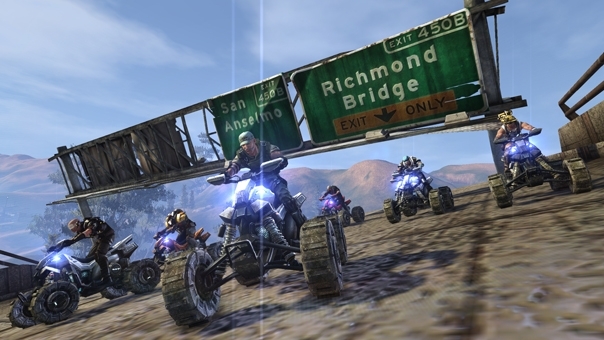 So that's me. Maybe a little mercenary, but it keeps the quad rolling and the rifle loaded. Other Ark Hunters, sometimes they team up against each other over something or other. They call it the Shadow War, but I don't pay it much heed. I do my work, and let them get on with their own thing. Works too, for the most part.
Where next? Well, San Fran's got plenty work for me right now, so I'm not in a hurry to move on. Maybe head up the coast. Maybe even head out east to St Louis – I keep hearing about this town called Defiance they've got out there.
Right now though, I've got a relic to find.
Defiance is currently in alpha, with a closed beta planned early next year. Trion's third-person shooter MMO is due to launch in April 2013, in conjunction with a TV series on SyFy. For more on Defiance, check out our interview with senior producer Rob Hill.
Gareth "Gazimoff" Harmer, Senior Contributing Editor