Who won Most Played Game, Most Successful Paid to F2P, and Longest Play Session?!
Raptr, the website and desktop application that tracks your total gameplay time, released it's 2nd annual "Most Played" awards recently. There were 8 awards up for grabs based on certain parameters, possibly the most interesting being the "No Bathroom Break" award for the longest average play session length on launch day. See if your favorite game won below:
Most Played New IP – Dragon's Dogma
Most Played Long-Awaited Sequel – Borderlands 2
Most Played XBLA Game – Minecraft
Most Played New Game – Borderlands 2
Most Played Game (Overall) – Call of Duty: Modern Warfare 3
Most Successful Paid to F2P Transition – Star Wars: The Old Republic
Biggest Boost from User-Generated Content – Portal 2
No Bathroom Break – Borderlands 2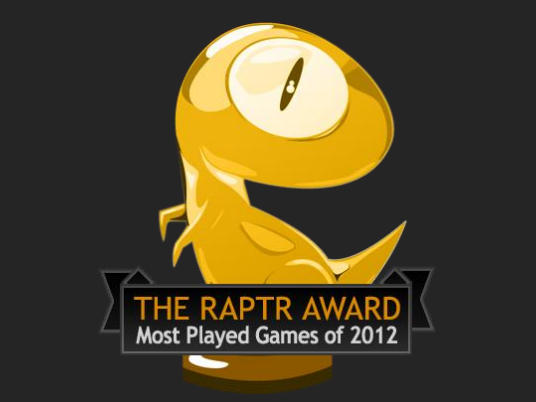 Borderlands 2 swept 3 categories, and runaway indie hit Minecraft unsurprisingly dominated the Xbox Live category. The full PDF report reveals even more data, revealing some interesting bits about MMOs specifically, who took 2nd in many categories.
Average TERA players clocked 40 hours in it's first month, technically beating "Most Played New IP" winner Dragon's Dogma in raw hours, but losing in other metrics.
For "Most Played Long-Awaited Sequel", the long-awaited indeed Guild Wars 2 beat contenders Borderlands 2 and Diablo 3 by less than 3 hours in average playtime.
Debatable MMO-status League of Legends as well as genre heavyweight World of Warcraft were in the top 5 of "Most Played Game" from any release date. As the Raptr awards report wisely points out, all top 5 nominees regularly engage their playerbase with new content and updates.
Recent Free-to-Play convert Star Wars: The Old Republic gained 136% more playtime with Raptr users in the 2 weeks after it ditched the subscription.
MMORPGs had a dismal display in the user-generated department this year, with a lack of big budget sandbox titles. Rift's Storm Legion expansion brought robust player crafted housing, but may have came out too late in the year to impact the category.
There were no MMO titles in the "No Bathroom Break" category, which rewards the longest average, consecutive playtimes on it's launch day... also known as "Server Downtime Day" for MMOs.
In case you missed the link above, the full PDF of the report with more detailed statistics and the reporting methodology can be found on Raptr's Community Unlocked blog.
Also check out the ZAM Readers' Choice Award and nominate your best for 2012.