We chatted with producer Marc de Vellis and lead designer Melvin Teo about the state of this unique MMO racing game, two years in.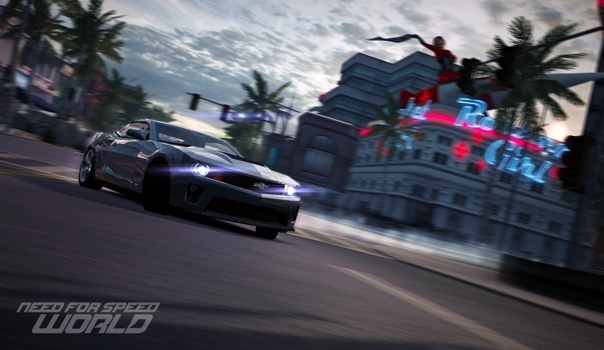 To anyone who hasn't experienced it, the idea of a racing or driving MMO seems rather odd. But after two years of updates, and notching up over 16.7 million registered gamers worldwide, the team behind Need for Speed World has been proved right. The careful blend of high-speed events, set inside a mesmerizing open world, generated an army of fans across Europe, Latin and North America.
As part of the celebration of their two year anniversary, I spoke to producer Marc de Vellis and lead designer Melvin Teo. While we raced through the grand, open-world city, they demonstrated some of the recent changes to the game and revealed a couple of the new features in the pipeline. From the latest word on Drag Racing, through the August supercar bonanza, there's a lot going on in this free-to-play MMO.
If you fancy taking part in the two year anniversary, the team is also giving away free in-game cars and kit to help fill your garage. Head over to the Need for Speed World website and get in before the celebration finishes!
Revving Up
As I spoke to de Vellis, it was clear he understood the importance of the Need for Speed legacy. As the team cut the cake on their two year anniversary, he explained that their mantra was to take the best elements from previous series hits such as Underground, Shift and The Run, and bring them to this world they'd been gradually expanding.
I admit: I was skeptical about how a racing game would work as an MMO but, surprisingly, Need for Speed World has managed to pull it off rather well. Within moments I'd chosen a starting car – a glorious yellow Ford Mustang – and I was listening to the engine gently idle in the Chinatown district of some West Coast City, itself based on locations in NFS:Carbon and Most Wanted. The whole city is left as an open world for players to cruise around and explore, with 80 group events opening up as you progress through your driver's fifty levels.
There's a mix of events available, including sprints, circuits, team escapes against police, and treasure hunts. But with over a hundred miles of road available in the open world, I was sorely tempted to just cruise around and explore. According to de Vellis, this isn't unusual. "We see a lot of our users literally get together on Friday nights, and go for a cruise with 20 guys, just racing around the city."
Teo also chipped in on the cruising phenomenon, adding that "a lot of players have a friends list which has a lot of players that they want to cruise with. In the future we are looking at a more refined system where people connect together and cruise around the world, but that's further down the pipeline."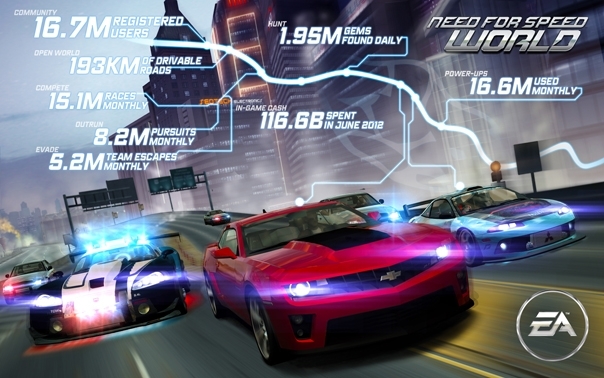 Sightseeing wasn't an option: I was here to race. Although there were event markers on my map to indicate which events I'd managed to unlock, I decided to hit the Quick Race feature and queue up for a random event. Much like other group finder systems, I was quickly joined by others with similar progress in the game. My first race – a sprint to the finish line – ended in a narrow victory, rewarding me with Reputation (similar to Experience Points) and in-game Cash to spend on new vehicles, customizations and more.
While it's possible to race using a keyboard, and roughly 95% of players do, gamepads and some steering wheels are also supported. A popular choice is the Xbox 360 controller, although you'll need a wireless gaming receiver (less than $20) to use it with your PC.
If you still need an edge in your driving, power ups may be the solution. These temporary bonuses, such as nitro boosts and slingshots, can be fired during races, to help push you to the front. That said, the bonuses are marginal, with some players foregoing them entirely, as de Vellis explained. "A lot of the hardcore guys actually run clean, and get kudos from the community for that"
Teo also explained how newcomers tend to get involved with the NFSW racing community. "Typically players start off by trying to join random races, and after a while they start to identify the good racers. From there they start to add these people as friends, and from then on they tend to do a lot of private races. They discuss rules, like not using any power ups, or playing a specific racetrack – challenging ten races to see who's the best on that track."
With a typical play session lasting roughly an hour, de Vellis explained how seasoned players really maximize the use of their time. The daily gem treasure hunt is a firm favorite, with drivers coming back daily for the cumulative rewards on offer. With most races being about three minutes long, there's usually time to squeeze in a significant number of events. While other MMOs might be more demanding on time, NFSW rewards those who can only log in briefly, but often.
The team is also seriously interested in adding drag racing to the mix, with de Vellis adding that they're looking at the best way to implement it. The concept is appealing though – 50 second races are ideal for those with scant time to spare.